Confirming our earlier reports, Charles Gardner of the JS confirms Yi Jianlian has signed with the Milwaukee Bucks. The press conference in Hong Kong began with a Bucks logo as a backdrop, so that was a pretty good hint which way it was going to go. Watch Chinese video of the press conference here.

Yi is expected to join the Bucks for the open of training camp October 1st. The Chinese National Team plays the Magic on October 18th in Macao, but I haven't seen anything definitive about whether Yao and Yi will be asked to leave their NBA teams to play in that game--hopefully Yi can stay stateside for that game. It's interesting that Kohl and Harris managed to get to China and meet with all the relevant parties without anyone knowing anything about it. Only when Guangdong announced this press conference a couple days ago did it become clear something might be going on. Some notes from the Gardner article:

After Bucks owner Herb Kohl made a trip to Hong Kong to conduct personal negotiations with Yi's representatives, the young Chinese star signed a multiyear deal with the Bucks, ending a saga that began on draft night when he was selected with the sixth overall pick by Milwaukee.

Kohl, Bucks general manager Larry Harris and team vice president Ron Walter met with Yi, Chinese Basketball Association officials and Guangdong Tigers owner Chen Haitao on Wednesday in Hong Kong.

In a statement, NBA Commissioner David Stern said, "We are happy that Yi will be playing with the Bucks to further develop his skill and his contribution to both the Chinese national team and the NBA. This is another great example of cooperation between the CBA and the NBA."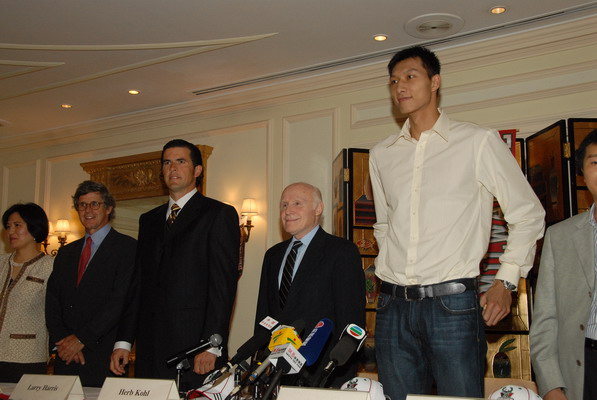 So David Stern gets to breathe a sigh of relief that his Chinese audience will see their newest star in the NBA next year. Fittingly,
Bucks.com
has gotten the requisite Yi makeover (above). Some choice quotes from the official
press release
:
Bucks owner and team president Senator Herb Kohl, General Manager Larry Harris and Bucks Vice President Ron Walter were able to meet with Mr. Chen, as well as Yi and his family, as part of the process.





Yi Jianlian is expected to join the team for training camp that begins on Monday, October 1 at the Bucks Training Center in St. Francis, WI.





"There has been a genuine excitement throughout our city and state, as well as internationally, following our selection of Yi in the NBA Draft," said Senator Herb Kohl. "We all anticipate Yi's arrival and welcome him and his family to Milwaukee. We look forward to a successful relationship for many years to come."





"We would be remiss if we didn't acknowledge and thank Mr. Chen for his assistance and support in the negotiating process," Kohl added.

"We were thrilled to be able to draft Yi Jianlian in June and are equally excited to sign him to a NBA contract as a member of the Milwaukee Bucks," said Harris. "We drafted Yi with the expectation that he would be a part of our franchise for a very long time and this is the first step in that process. Yi is a skilled and versatile young man who we have seen play numerous times over the last few years including this summer in the NBA Summer League. Our players and coaches look forward to working with Yi and I know our fans will enjoy watching him compete with the many talented, young players on our roster."
Give Larry Harris and Herb Kohl plenty of credit--they've been a collective lightning rod for second-guessing since the draft, and they knew that their reputations were on the line when they made the pick. And while Yi still has to perform on an NBA court to justify his selection, he showed flashes of his potential in Vegas and in the last month has further improved with a string of impressive performances in international competition. It's not likely Yi will be a star performer as a rookie, but it's becoming increasingly difficult to argue that the Bucks gambled unwisely on June 28th.