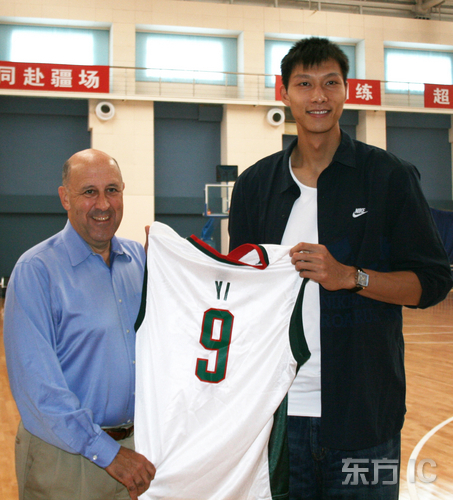 Gov. Jim Doyle met with Yi Jianlian today in Beijing. So to recap, Yi has now met with the state's governor and senior senator despite having neither set foot in the state nor played a minute of NBA basketball.

"The whole community is very excited about you coming to Milwaukee," said Doyle, who held a face-to-face meeting with Yi shortly after arriving in Beijing following a brief trip to Xian, China, where he met with the provincial governor.

Clad in a blue jeans, a white T-shirt, navy blue Nike jacket and white, low-top Nike athletic shoes, Yi greeted Doyle on a set of stairs leading into training facility. A select group of Wisconsin business delegates and government officials then gathered in a room adjacent to a gymnasium at the facility, where Yi and Doyle took seats next to each other.

"I'm ready for it," said Yi, who spoke softly, provided one- or two-word answers, but smiled throughout the meeting, seeming at ease in the presence of Doyle and his entourage.

Russ Feingold, get with the program. In all seriousness though, this only further underscores the idea that the drafting of Yi is much more than a basketball story. For a mid-market city always looking to raise its profile, Milwaukee could potentially benefit greatly from its association with China's most marketable young basketball star (Yao is of course an old man at 26).

Ty at the Milwaukee Bucks Diary has a great Damir Markota story from last December.
In a move aimed clearly at easing Yi's transition to the NBA, the Bucks announced the hiring of Jarinn Akana as an assistant coach for player development. Akana had spent the past six years with the Nuggets, serving in a similar capacity from 2003-2005. In 2000 he spent some time "guest coaching" with the Chinese national team and he's also been a scout in Asia, so given the timing of his hiring--Tony Brown, Jim Todd and Bill Peterson were all hired within a two week period in June--it's obvious the Yi signing was the key factor here. Akana is a Hawaiian native who graduated from Hawaii in 1995.
Bucks.com has a puff piece about Tony Brown and Awvee Storey being impressed with Yi's performance in Vegas.
I've added The Bratwurst to our blogroll on the right. Great site for Bucks stuff, check it out.