Marc Stein confirms the Bucks are not going all-out for Chauncey Billups. As I've posted before, Billups probably doesn't make a whole lot of sense given his price tag, age, and the opportunity cost of signing him vs. Mo/Bell/another free agent. Will he still be a great player for the next couple years? Most likely. Would he be a big upgrade over Mo Williams in terms of defense and experience? Yes. But I just don't see those factors outweighing Mo's youth and affordability.

There was some immediate evidence to suggest that Chauncey Billups re-signing in Detroit is the lock everyone says it is: Milwaukee did not rush to register interest in Billups in the early hours of Sunday morning.

The Bucks are the one team with salary-cap room (if they renounced the rights to Mo Williams and Ruben Patterson) that was thought for much of the season to have a shot at signing Billups away from the Pistons.

But the Bucks' priority -- besides convincing Chinese draftee Yi Jianlian that he's going to absolutely love Wisconsin in the winter when he finds out he can start as a rookie -- is getting Williams re-signed. Those are the two things they're working on this weekend.
*******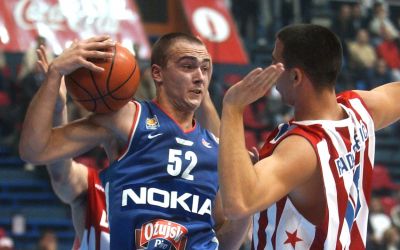 The Markota Experience is about to do Vegas
The summer league roster is set
. No real surprises--current/future Bucks benchwarmers Lynn Greer, David Noel, and 2nd rounder Ramon Sessions are all there, while Damir Markota will also be raining his trademark ill-advised 25-footers on Bucks opponents. Chris McCray is back after spending part of last season with the team. I'm trying to figure out why Reiner is not on there if he indeed is likely to return as the last man on the bench.
Randy Livingston is perhaps the most familiar name without Bucks ties, as continues to bounce around the basketball world. Remember he was a high-school All-American before knee injuries derailed his career. Meanwhile
Awvee Storey is the guy best known for rearranging Martynas Andriuskevicius' face
in an NBDL practice last year. You've been warned, Damir Markota. Watch your back.