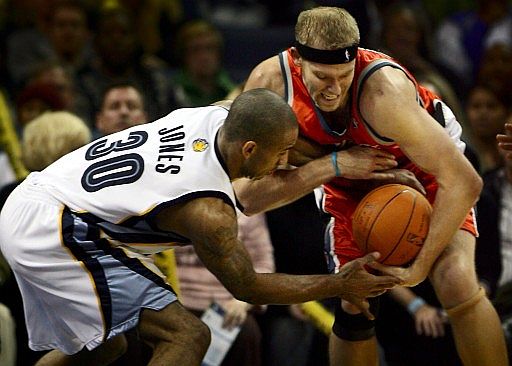 Desmond Mason and Jake Voskuhl are rumored to be flying to Milwaukee tomorrow to finalize contracts. The Mason deal has been rumored for days, while the Voskuhl signing is a little out of the blue, but this is from the same source who broke the Magloire/Blake trade before anyone else, so I'll give him the benefit of the doubt. Besides, who would make up a rumor about a Jake Voskuhl signing?

In any case, the 6'11", 255 pound Voskuhl provides a warm body to back up the 5/4, which would seemingly make a Brian Skinner re-signing less likely. The book on Voskuhl is that he's not particularly good at basketball, but he's less worse at defense than he is at offense, which should be some consolation given the Bucks' defensive woes. He's been around the block a while, having played with the Bulls, Suns and Bobcats since breaking into the league in 2000. He's basically just a guy, but if Yi signs and everyone remains healthy he won't be needed much anyway. His agent is Mark Bartelstein, who also reps Mo Williams and Charlie Bell.

UPDATE: ESPN is reporting Voskuhl's deal is for $3 million for one year, which is absolutely befuddling. Seriously, that's what Jake Voskuhl gets to be a towel-waver? I've never been more bitter that I'm not a foot taller.

The only bright side of this is that it appears the Bucks wouldn't have cap space to give Desmond Mason more than about $5.15 million as a starting salary in his deal, so at least that contract won't have a ridiculous starting salary. Let's just hope it's not for more than two or three years.

Assuming this maxes out the Bucks cap space, the Bucks would still be able to go over the cap to sign Charlie Bell using their Early Bird rights, and Yi and Ramon Sessions can also be signed using the rookie exceptions. All other signings would have to be for the minimum however.