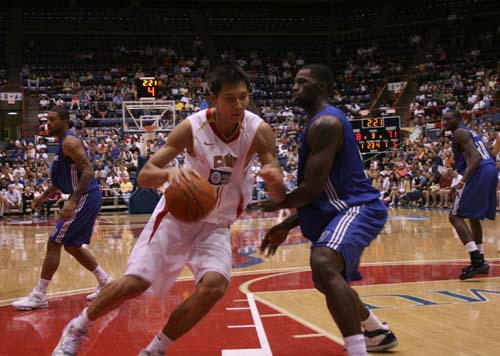 Aditi Kinkhabwala has a nicely researched op-ed on the Yi situation at CNNSI. She points out the many reasons Milwaukee wouldn't be quite as foreign to Yi as his reps would have you believe.

In between all that, the Beijing Ducks decided Milwaukee was an amazing basketball city for Chinese players. It was the Ducks who made the first visit to the United States by a Chinese pro team -- and it was Milwaukee they picked. For two weeks in August 2005, they had clinics with Marquette coach Tom Crean and Wisconsin coach Bo Ryan, went sightseeing and played a couple exhibition games with Bob Lanier coaching them. The first of those two was at the Bradley Center, and though the Ducks took on a group of Midwestern college all-stars, the crowd that night was fully in the visitors' corner.

"I think our whole church showed up to see the slaughter," Pastor Andy Tso said, good-naturedly laughing as he remembered the 300-odd parishioners he brought from the Chinese Christian Church of Milwaukee -- and all the good-natured laughing they did that night.

The Ducks had such a good time that they're now in talks with Payne and his Council co-chair, Bob Kraft, to send their youth team back for six months of intensive training this fall.

"They didn't turn to L.A. or New York," Kraft said. "This is a city that has above-average ties to China and very sophisticated basketball fans. The Ducks turned to Milwaukee."
*******
Colin Fly also reports Milwaukee might not be so bad
. He also points out the strong financial incentives the city has in bringing Yi to Milwaukee.
"People in China think Wisconsin and Milwaukee consists of just farmers and we don't have any large cities or culture here," Siy said. "If we have a player like Yi, we'll have a large following in China."

Milwaukee has a sister-city relationship with Ningbo, China, and two years ago, the city commerce association's China Council, along with the Bucks, brought the Beijing Ducks in for a series of exhibition games in an effort to strength ties with China.

The association has been working recently with a developer to transform the vacant Pabst Brewery, five blocks from the Bucks' home at the Bradley Center, into a cultural destination with about 40 to 80 Asian stores as part of an international trade center.

"This was definitely big news for us and for the Chinese businesses we've been talking to," said Mike Mervis, representative for developer Zilber Ltd. "We're assuming their knowledge of Milwaukee will go up significantly. I think it has a huge impact on Milwaukee and China."

Mervis said they hope to have the trade center open by "the 2008-09 season."

"We're very prepared to market Milwaukee to Chinese businesses and Chinese tourists," Mervis said. "There may be a lot more happening in this town that Yi or his representatives aren't aware of."

Paul Swangard, director of the Warsaw Sports Marketing Center at the University of Oregon, said there's little doubt about the exposure Yi would create for one of the NBA's smallest markets.