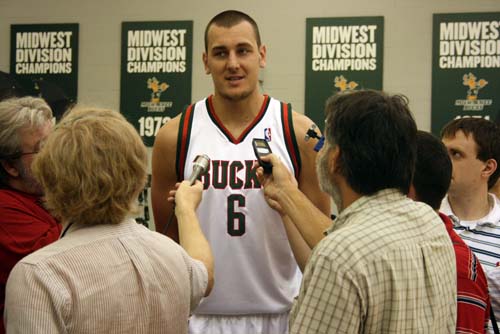 I was kind of expecting this to be the case the last two years, but after increasing his scoring in each of his first seven seasons, Michael Redd wants to do more than score this year:

"At this point in my career, I want to win. Bottom line. If I get 10 points in a game, and seven assists and five rebounds . . . now, commentators and people will say he's having an off-year because he's not scoring as much. But my career is not predicated on just scoring, I've got to get wins. I'm not worried so much about scoring. I've shown I can get 50 or 60 a game. And it still may happen.

"But my focus this year is winning. I learned a lot from Jason Kidd this summer. Jason Kidd was tremendous as far as watching him and . . . he didn't shoot a shot in the first four games and we blew everybody out. He didn't care about scoring. He's a terrific talent. So I have trust my teammates in the same manner."

Check out Larry Harris and Larry Krystkowiak talking about the 07/08 Bucks.

Charles Gardner writes Mo Williams didn't rest on his laurels this summer. Rather than figure out ways to spend his new $52 million contract, Mo worked out with well-known trainer Joe Abunassar. So Mo, did you work on passing and being a better game manager? Well, not exactly:

"He told me, 'When Chauncey came to me 10 years ago, he was bouncing around,' and he became an all-star," Williams said. "He said, 'I see that in you.'

"He (Abunassar) caters to your game. I did a lot of stuff this summer, shooting a lot of floaters, shots coming off screens."

Good news: the Mo Williams show is coming back. Check out some of last year's episodes here.